Created for the 2013 MolyJam at the Durham location.
Peter is down at the pub and needs some drinking buddies. Gather up the townsfolk so he won't have to drink alone.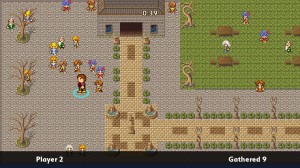 Play by yourself or with a friend. Earn more beer for yourself by bringing the most people down to the pub. If you have a MolyBot, it will pour your beer for you at the end of each round; otherwise you'll have to pour the beer yourself (MolyBot and beer not included).
Thematic Quotes
I could be alone in a pub drinking a pint of bitter. Come along!
Pull the right trigger to see The Most Interesting Thing In The World.
How to Play
This game can be played with a keyboard or a gamepad. Keyboard controls:
Arrow keys – Movement.
Space or Enter – Menu Select.
Escape – Menu Cancel.
Gamepad controls:
[Left Stick] or [Dpad] – Movement.
[A] or [Start] – Menu Select.
[B] or [Back] – Menu Cancel.
Keep moving! You are part shark. You will die if you stop moving.
Also note that the correct trigger on the keyboard, mouse, or gamepad will aid you in your quest. The jam version 'includes' 4 levels, but only the first one is fully functional.
Downloads
Jam Release (game only) or Full Source

PeterPint.exe – Run windowed (no pump)
PeterPint_Fullscreen.exe – Run fullscreen (no pump)
PeterPint_WithMolyBot.exe – Run fullscreen with pump (requires Phidget drivers)

You need the XNA4 redistributable package to play the game.
Physical Hardware
This game is best enjoyed with a MolyBot beer dispensing device (Mini Robotender v2). The original hardware is a 12V peristaltic pump (1/4 inch ID), connected to output 0 of a Phidget InterfaceKit 0/16/16. You could easily adapt the code to use an Arduino with a relay or anything else that can drive a 12V ~2A output (see PumpInterface.cs).
The pump assembly is inside of a green cube, held in Molyneux's capable hands. There are no plans or schematics (everything was done on the fly), but there are some photos included in the Hardware directory.
Credits
Jammers:
Justin Allison
Kimani Hall
Derrick Nsibuka
Additional code and content used under license from:
(for more information on licensing, see the LICENSE.txt file)