This photo (http://nickwong.smugmug.com/photos/132206567-M.jpg) made the rounds at work a few weeks ago, and general consensus was that not only was this awesome, we needed to try it.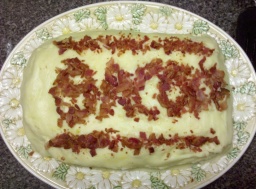 So, we set out to make some bacon cakes and succeeded wildly (though not without a few hurdles along the way).  At the weekly fooding, we ended up with two distinct designs.
Design 1 (main course)
Todd made a cake with a boneless pork chop core, iced with mashed potatoes and asparagus trim, and bacon bathed in a dijon sauce to top it off. The cake turned out excellent, especially the sauce, but apparently this was Todd's 3rd try. The first two cakes didn't have sufficient structural integrity (IIRC he was experimenting with bacon lattices to hold the potatoes in place rather than having a core).
Design 1, mk3 - Bacon cake with a porkchop core
Design 2 ('desert')
I went for a sweet Jalapeno corn bread for the 'cake', with cheezy mashed potatoes for icing, and 'bacon' spelled out in bacon on top. It had quite a kick, and just a hint of sweetness, so it went well as a second course after the pork chops as an entree. The cornbread also looked for all the world like a yellow cake from a distance, and it could be cut like cake as well.
Design 2: Bacon cake with a cornbread core
Recipe
I don't have Todd's recipe, nor is mine exact, but here's what I recall:
Cornbread
Take the standard Quaker cornbread recipe and double it. Replace the water with cream corn (about 1 1/4 cans) and just a bit of milk (add as needed to maintain consistency). Replace as much of the oil with bacon grease as you can (you'll need bacon for later, so may as well fry it now). Add a small can of diced Jalapenos, a pinch of garlic salt, and maybe 1/2 cup of four cheese Mexican blend. Add an extra egg (and use both the yolks and whites).
I mixed it up and put it back into the cast iron pan that I used to fry the bacon, then baked it for ~35 minutes. If you're making a huge cake, you could just use the round straight out of the pan (cut the top flat), but I went for a smaller rectangular form by cutting off the edges and serving those up straight.
Icing
Cook 7-8 medium Yukon gold potatoes fully peeled and coarsely diced until fork tender (Yukons have a nice taste and texture, but they're kind of yellow and you might go with something a little whiter if you want it look like white icing).
Mash up with 4 tbsp butter, 1/2 cup heavy cream, 1 tbsp white pepper, and ~3/4 cup five cheese Italian blend (anything is probably fine as long as it's a white cheese obviously). I also added 5 or 6 grinds of garlic salt to both get the salt needed as well as add a bit more flavor. Let it cool to where you can safely touch it before trying to ice the cake, if you don't want to burn your hands. The cheese will make this set up very nicely and smoothly, it really does look like icing.
Topping
Crumble the bacon and decorate. Writing letters with bacon dust is harder than it looks.